AIP Baked Vegetables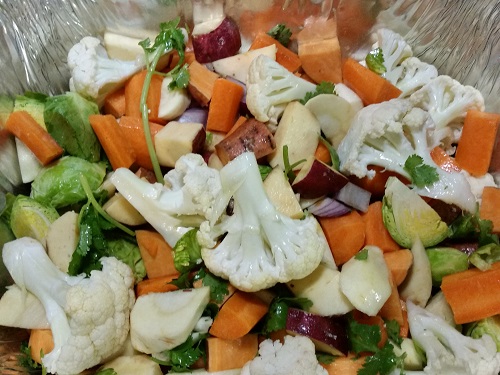 This is one of my most "go to" AIP recipes for a lot of reasons. First of all it is easy to make. Sometimes you just don't have the time or energy to spend the night fussing over the stove which is why the TV dinner industry has been booming for a half century now. Unfortunately AIP friendly microwave dinners don't exist, or more so they do but an instant AIP meal just means eating an apple or a carrot. I don't know about you but sometimes you want a real, hot meal...not just a cold carrot. Simply clean, chop and toss all of these veggies together and bake it in the oven until ready. It does not get a lot easier than that.


Don't let the basic description of this recipe fool you. There is magic that happens when a bunch of foods cook together and these baked veggies are anything but boring. The real hero is the addition of a generous amount of cilantro. Some people have a unique DNA thing that makes cilantro taste and smell like dirt or soap. I feel bad for these people because cilantro, hands down, is my favorite smell on the planet. It is the literal definition of "fresh" to me. When mixed with these veggies and baked in the oven along with the sweet red onion, these veggies take on new life (and new smells) that will have you staring through the oven window and salivating while waiting for these to finish cooking.


** If you are someone who does not like cilantro then try substituting another strong flavor herb such as rosemary to help marry the flavors of the veggies together. Dill also works as does garlic, mint, basil and many more...but for sure cilantro is the best and if you have not tried it yet you should give it a whirl.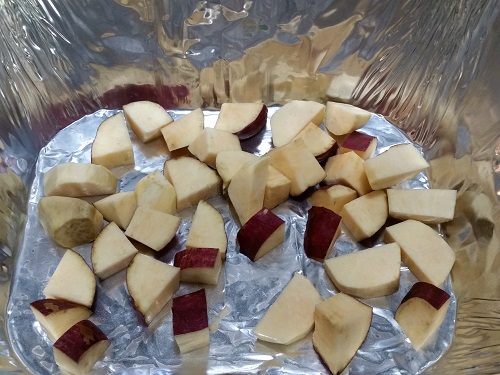 Prep time
20 minutes

Cooking time
40 minutes

Recipe yield
4 to 6 servings

Ingredients needed
2 purple skin sweet potatoes
2 large carrots
1 large parsnip
1 red onion
12 Brussels sprouts
2 sweet potatoes
1 small cauliflower
2 cups (a handful) of chopped cilantro
1 teaspoon salt
1 tablespoon of coconut oil