AIP Recipes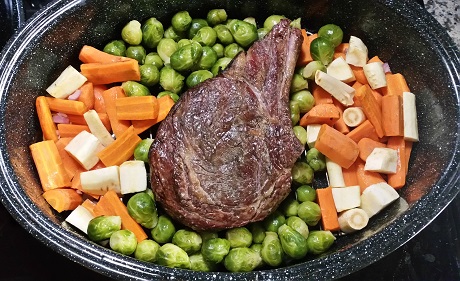 Autoimmune Protocol (AIP) restricted eating can be challenging for some people. I think it would be hard for anyone but I do not want to speak for the crazy people out there that live on carrots and water...for me learning to eat AIP was the source of a great deal of frustration. Despite the fact that I needed to feel better, and I had specific reason to think that an AIP friendly diet would lead me down a path to success, staying on this diet was a day by day affair. Even that is an understatement.


For the first week almost every single meal was a problem in one way or another. I struggled with understanding what is safe for me to eat and what is not. Between the insane cravings for familiar foods, and especially sugars, as well as not knowing options for what I can eat, starting a strict AIP friendly diet takes a lot of research, discipline and dedication.


What to avoid on an AIP diet - AIP diets are mostly green leafy vegetables, colorful vegetables, and high quality meats and fish. The list of things to avoid is long, and full of staples that most people eat with every single meal, so it can be challenging to wrap your head around it. Even something as apparently healthy as a green pepper is not AIP friendly and this is where people tend to start to get confused. AIP means no dairy, no grains, no nuts, no soy, no alcohol, no caffeine, no nightshade vegetables (potatoes, all peppers), no sugar, no sugar replacements, very limited fruit (too much sugar), no processed foods, no vegetable oils...the list goes on and on.


Just think leafy greens, healthy meat, limited fruit and veggies with lots of color and this will get you 90% of the way to an AIP diet. Also include as much sulfur rich vegetables like cabbage, turnips, broccoli etc. as possible, along with bone broth soups and fermented vegetables like sauerkraut. There is a lot to eat that is AIP friendly but you need to learn what to use and how to use it before you can get started! For more information on what you can eat on the AIP diet you can read this article on AIP staple foods.



AIP Recipe Ideas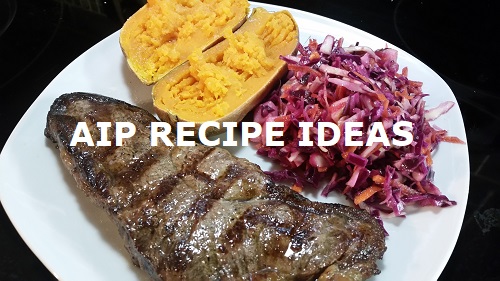 Now that you have a better idea about what kinds of foods you can eat on an AIP friendly diet hopefully you can find some inspiration in the recipes listed below. These recipes are how I made it through the first month of eating AIP and many of them are "set it and forget it" kind of cooking since I did not have the energy to cook all day, every day.

When you eat AIP you will end up eating many smaller meals throughout the day plus snacking any time that you are hungry between meals. It is not uncommon for me to eat six to eight smaller meals per day. I did not intend to eat this way but when I started eating AIP I found that I was hungry all the time. Even directly after a large meal I would be craving food...mostly sweet stuff. This went away after a few days of strict AIP low sugar eating but I do eat more often than I used to.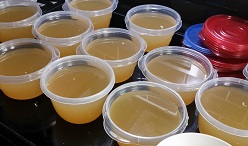 Bone Broth Soup
A staple of the AIP diet. Every morning you should wake up and immediately eat some bone broth soup. If you are trying to heal your stomach or GI system you should eat small portions of bone broth 3 to 5 times daily. If you prefer lighter flavors then try this turkey bone broth recipe instead.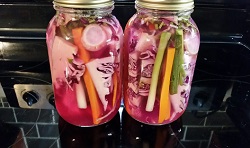 Fermented Vegetables
Dead simple, cheap, lasts a long time, and provides a great deal of health benefits. If you have MCTD or an autoimmune disease, or just gastrointestinal problems, you should be eating fermented vegetables every day.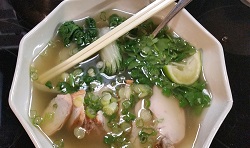 AIP Breakfast Soup
4 billion people can't be wrong! Eating noodles for breakfast is a great idea and something that you should start to do when eating an AIP diet. Sweet potato noodles in particular are what are used in this recipe, along with some leftover chicken breast, to make an Asian inspired AIP breakfast noodle soup.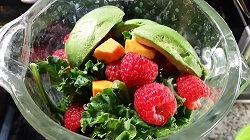 Healthy AIP Smoothie
Green smoothies, and healthy fruit and vegetable smoothies in general, are something that you can be eating every day on an AIP diet. This is a great way to increase the amount of leafy greens like spinach, or (shudder) kale, that you are eating, as well as providing an extremely fast and versatile meal when you need something to hold you over for another hour or two.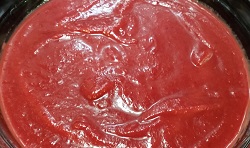 AIP BBQ Sauce
Home made BBQ sauce has been a passion of mine for many years. This is an AIP version of home made sweet and sour BBQ sauce that you should have available in both your refrigerator and your freezer at all times. Not a lousy AIP replacement...this BBQ sauce is the real deal and would rival, and beat, pretty much any BBQ sauce you have ever tasted. Follow it step by step or start spicing things up, literally, with your own favorite flavors.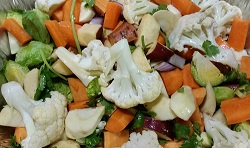 AIP Baked Vegetables
This recipe is both AIP and vegetarian and yet it is a filling meal that you could feed to a room full of starving people. Best of all this is the type of food that you can prepare in advance and just slide in the oven to bake about 45 minutes before dinner. Don't let the simple name fool you - there is magic in this recipe.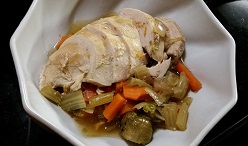 Hearty Chicken Soup
This is somewhere between a soup and a stew, but is dead simple to make, and one of the very best things to eat when you don't feel well. This is a slow cooker recipe and takes very little actual work to prepare.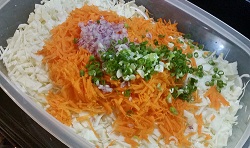 Easy Apple Coleslaw
This is one of the best AIP things I know to keep in the refrigerator at all times. It is cheap as can be, lasts forever, tastes great, and can be eaten as a light meal or as a side for pretty much any main course. When people complain that they don't have time to eat AIP, or can not afford it, this is the first recipe that I point them towards.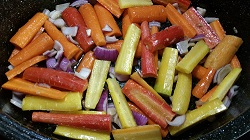 Roasted Heirloom Carrots
Heirloom carrots roasted with onions and garlic is a simple meal that is light but reasonably filling. Where this recipe shines is the bright and colorful visual appeal and of course the health benefits as well. To elevate the flavors of this recipe to the next level you can substitute the coconut oil with a cup of onions that have been slow cooked with a catty cut of meat.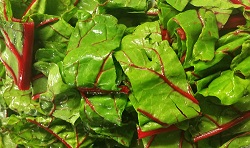 Swiss Chard With Apple Cider Vinegar
This is a great recipe for Swiss chard as a side dish that will allow you to eat a ton of swiss chard quickly and easily. The bold flavor of the vinegar covers the natural sour note of the Swiss chard and the savory coconut oil and salt pair wonderfully with the tang from the vinegar. Make a lot...it goes quickly!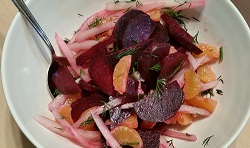 Beet & Mandarin Orange Salad
Part of the AIP diet means cooking with colorful foods as much as you can. This is a warm beet salad with mandarin orange slices, fresh dill, as well as quick pickled daikon (white radish). This is a fantastic side dish that has punch and a fresh quality that will make you think of summer. There is a great balance here of competing, unique flavor profiles.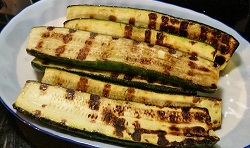 Simple Grilled Zucchini
This is a super fast side dish or stand alone snack that can be prepared and cooked with only a few minutes of spare time. It is also a blank slate dish that is good on its own but also able to be easily modified in a dozen different ways to suit your taste (or to just keep things fresh and different). A BBQ really brings this simple recipe to life but you can also bake them in the oven but perhaps use a little more flavoring if you do.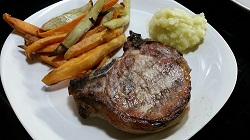 BBQ Pork chop With Apple & Sweet Potato Fries
This is a low prep-time meal that satisfies cravings for fast food while remaining strict AIP. It is important to eat things that feel rewarding, and comforting, and sometimes a salad is just not going to cut it. The fresh minced apple on the side really helps to bring this meal together.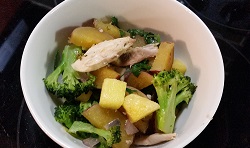 Pineapple Chicken & Broccoli Bowl
Breakfast, lunch or dinner this is a great recipe that comes together quickly and can accommodate various substitutions based on what you have in the refrigerator that needs to be used up. The mixture of purple skin sweet potatoes, pineapple, chicken, broccoli and cilantro makes this a well rounded and satisfying dish that smells and tastes amazing.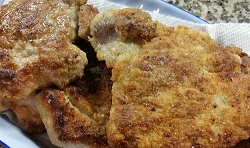 Pork Schnitzel
Pork is probably the cheapest meat to buy if you want to buy farm-direct or organic meats while eating AIP. This recipe uses both light or dark meat pork, but dark is definitely better for leftovers the next day. Pan fried to a golden brown crunch you can serve this with anything you might normally serve fried chicken with.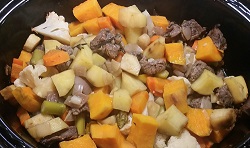 AIP Stew (Slow Cooker)
You can make this simple slow cooker recipe with any meat such as beef or venison. In this particular batch I used a moose steak that was donated to me by one of my friends. Nobody should claim that they can't cook good food when great food is this easy to make!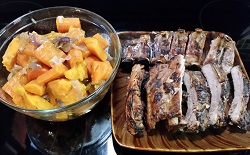 BBQ Ribs & Warm Sweet Potato Salad
This is an easy family style meal that is filling and feels like a cheat day, not a dietary restriction. When I need to feed people who are not on an AIP diet, or should be but don't like the food, this is one of my go-to meals. This meal also scales up well if you need to feed a large group of people...it hardly takes any extra time versus the basic recipe.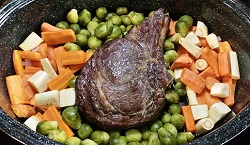 Roast Prime Rib Dinner
The perfect dinner meal for special occasions or just a fine dining feast at home. There are few things that taste as good as a well prepared prime rib dinner. If the different cuts of beef are somewhat of a mystery to you then you might be missing out on something special. Prime rib, due to the fatty nature of the cut, is well marbled and tastes better than pretty much any other cut of beef.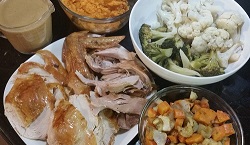 AIP Turkey Dinner
Whether for Christmas, Thanksgiving, or any other holiday occasion, for many households a turkey dinner with "all the fixins" is the de facto standard meal. Of course, most of these traditional items are not AIP safe so here is a completely AIP friendly turkey dinner that you can make. It is easier than you think and covers all the bases for the traditional flavors that you are looking for holiday meal.




AIP Turkey Leftovers Shepherd's Pie
The single best tasting AIP dish I have eaten since starting with the autoimmune protocol was this amazing shephard's pie dish made using all of the leftover foods from a holiday turkey dinner. If you have a lot of leftovers then you can put this together quickly and put your feet up while it warms up in the oven. I tend to not overeat on the AIP diet but this was going-back-for-thirds kind of meal.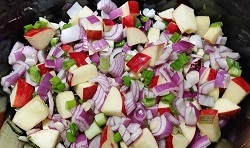 AIP Maple Apple Pulled Pork
Maple and apple slow cooked with both red and green onions provide the base for this delicious AIP pulled pork recipe. This recipe looks amazing as you put it together, and smells and tastes amazing when it finishes in the slow cooker. This is one of the most versatile AIP meats that you can freeze or have in your refrigerator for quick and easy additions to your meals.




AIP Apple Crisp
AIP desserts are few and far in between but I have a sweet tooth that refused to admit defeat. This recipe is based from the concept of a traditional apple crisp dessert but adapted to use only AIP safe ingredients. Best of all this is something that you can throw together very quickly and will make a satisfactory dessert even for people who don't know what AIP is!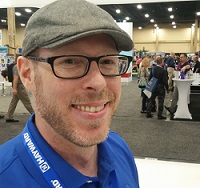 About the author - Steve Goodale is a blogger and technical specialist from Ontario Canada, winner of the 2018 Industry Leadership Award, who reaches over three million readers per year with his popular pool and spa blog. Steve started the www.CookForMeBaby.com blog about healthy eating after being diagnosed with a rare and incurable autoimmune disease. You can read more on his story about life with MCTD here. For more healthy cooking inspiration check out his other delicious recipes.