AIP BBQ Sauce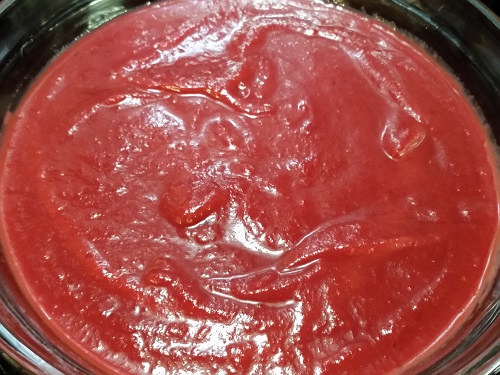 Years before I had ever heard of AIP or considered the potential for a life as a food blogger, I was addicted to the idea of making the "perfect BBQ sauce" recipe. I must have made...a million? A zillion? Hard to put a number on it but sufficed to say that I am well versed with the magical balance of sweet and tangy and salty. Now that I am 100% AIP none of my old recipes would work for making BBQ sauce. Still, many of the ingredients that I have tried over time have comparable AIP ingredients that can be substituted. The end result of this recipe is a sweet and sour BBQ sauce that is lip smackingly tangy and a serious contender as an award winning BBQ sauce - never mind AIP sauces - this BBQ sauce will take on all comers in any legitimate BBQ competition. Make a bunch and freeze it for easy use for adding easy flavor when you need it.


At risk of hurting myself up on this soapbox, I am somewhat of a BBQ sauce snob. I aggressively turn my nose up at any commercial or store bought BBQ sauces. I have yet to taste one that does not taste like boiled chemicals...which is what they are really. My zest for BBQ sauce started after seeing a winning BBQ competition recipe that was simply two different Heinz brand BBQ sauce flavors mixed together. I am sorry, but that is both sad and gross. Store bought sauce is fine for the busy masses but let's get real for a minute here - there is NO replacement for home cooked flavors and you simply can NOT make a commercial BBQ sauce that tastes as good as this one. Try it out for yourself!


* AIP is a burden to most people. One benefit that you could say about it however is it forces you to cook with an old-school mentality. It is hard, and not really congruent with living in modern society, but learning how to cook all of your food from scratch can actually be quite rewarding. Even if I were not needing to eat AIP I would not consider buying store bought sauces of any kind when making your own is cheaper, easy, and tastes a million times better. That is what you call a no-brainer.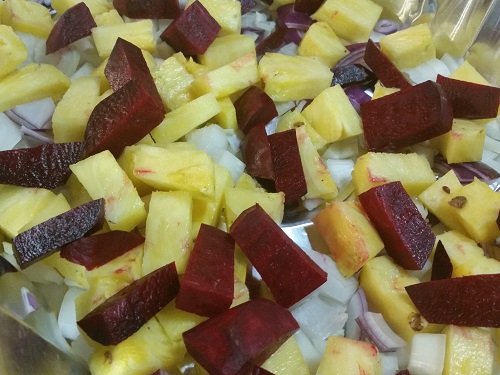 Prep time
20 minutes

Cooking time
60 minutes

Recipe yield
10+ servings

Ingredients needed
1/2 ripe pineapple
1 red onion
1 yellow onion
3 beets
4 cloves garlic
1/2 teaspoon of garlic powder
1/2 teaspoon of onion powder
1/4 cup of coconut sugar
1/4 cup of maple syrup
1 tablespoon of coconut aminos
1 tablespoon of apple cider vinegar
2 teaspoons salt