AIP Beet & Mandarin Orange Salad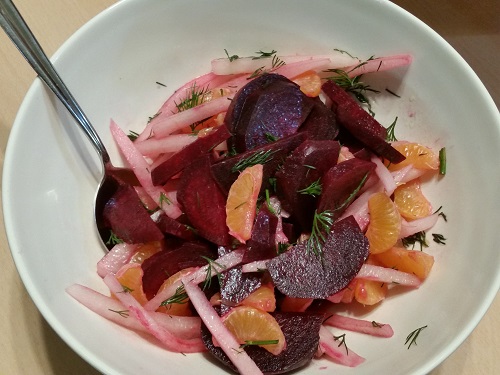 One of the core concepts of eating AIP is to specifically incorporate colorful foods. Beets are not something that I would have previously classified as a food staple in my kitchen, but if you want to talk about bright, vibrant and colorful foods then beets is one of the very first things that come to mind. In order to balance the earthy profile of the beets in this salad the mandarin oranges provide both a tart as well as sweeter notes, while the quick pickled white radish (daikon) has sharp but delicate flavors similar to a potato / radish hybrid if you can imagine that. In total there are some powerful flavors all balancing together in this impressive colorful dish.


Fresh dill is absolutely required for the success of this salad - if all you have is dried up and flavorless dill you could try if you want, using a lot more dill than used here, but you will only get the dill flavor. A real part of the magic here is the freshness. The mandarins are so juicy and fresh tasting, and the daikon is uniquely flavored for most western palates so it really jumps out as well...but you really need the fresh, chewy green-ness of a handful of fresh dill if you want maximum impact from this recipe. You can pickle the daikon for as little as 15 minutes while the beets cook, or you can even let them chill out for a day or two in the fridge but be warned that chopped up daikon can be a little overwhelming in the refrigerator in terms of smell. A happy medium is to use a small amount of daikon and let it sit for an hour. This will get a quick pickle but also allow you to clear the chopped daikon out of your fridge after you are done cooking this salad.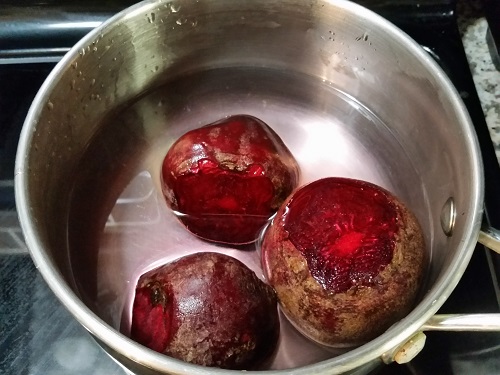 Prep time
15 minutes

Cooking time
15 minutes

Recipe yield
4 servings

Ingredients needed
3 beets
5 mandarin oranges
1 small handful of fresh dill
1 small white radish (daikon)
1 tablespoon of honey
1 tablespoon of coconut vinegar
1 teaspoon salt