BBQ Pork chop With Apple & Sweet Potato Fries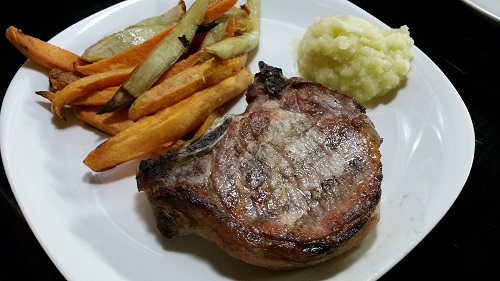 This BBQ pork chop with minced apple and sweet potato fries recipe is a perfect example of the kind of thing I would make when I am having a craving for junk food or something like fast food. Not every meal can be as healthy as the last and I have no problem incorporating things like sweet potatoes fried in coconut oil into my diet. Eating this will not result in abdominal muscle definition necessarily, but it also my help me to feel satiated when I am craving something like a burger and fries.


This is a simple meal without a lot of steps. It is helpful to have one person to BBQ the pork chops and another person to fry up the sweet potato fries just so that you can have both be done at the same time and served hot. You can peel the sweet potatoes if you like or just wash them well if you prefer the skins left on your fries. I sometimes like to cut the sweet potatoes with carrot fries, parsnip fries or different types of sweet potatoes. I specifically like the red skinned, white flesh sweet potatoes that are sold as "Asian sweet potatoes" in my area. The color goes a long way towards feeling like good, old fashioned white potatoes which are a nightshade and disallowed in AIP cooking...despite how much I like them.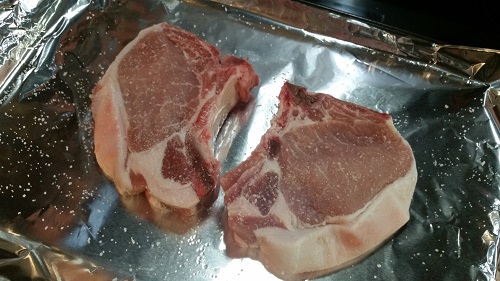 Prep time
10 minutes

Cooking time
30 minutes

Recipe yield
2 servings

Ingredients needed
2 pork chops (on the bone)
2 large sweet potatoes
1 apple (tart is best)
1 tablespoon coconut oil
1 teaspoon pink salt