AIP Prime Rib Roast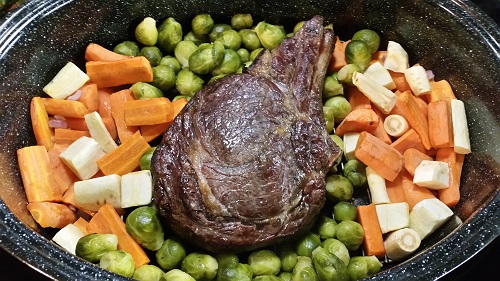 If you are in need of a strict AIP dinner for a fancy occasion then look no further than this delicious bone-in prime rib roast with carrots, parsnips and Brussels sprouts. It looks amazing, it tastes amazing, and it is surprisingly easy to make. This is another one of my simply family style dishes which look and taste better than they deserve to considering how little goes into making this. Even if you are not great in the kitchen you will be able to make something great with this.


With a little dedication to timing and making sure you watch the internal temperature of the roast you can take this easy dinner from "pretty good" up to "fine dining" quality. This is my go-to Christmas dinner for the autoimmune protocol diet.


Serving size - When I serve this meal I prefer to count each bone in the rack as one portion however this is too much meat for most people. Red meat can cause inflammation and I think it should be said here that smaller meat portions are probably a safer bet for anyone with MCTD or autoimmune disease...but when you have a big appetite like I do you will sometimes do things a little outside what you should be doing. I sometimes struggle to remain strict AIP and in a moment of weakness it would be easy to eat something not AIP safe. When I feel this way I would prefer to treat myself to a large portion of something like this prime rib as opposed to something that is not AIP safe.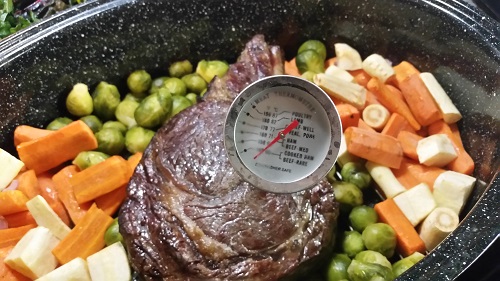 Prep time
20 minutes

Cooking time
1.5 hours

Recipe yield
2 to 4 servings

Ingredients needed
2 bone prime rib roast
4 carrots
2 parsnips
4 dozen Brussels sprouts
1 onion
2 teaspoons salt
1 clove of garlic (optional)
2 tablespoons olive oil



Step 1 - Preheat oven to 375 degrees Fahrenheit

Step 2 - Char rib roast on a BBQ on high heat for 3 to 5 minutes per side to start fat rendering

Step 3 - Peel and chop all carrots, parsnips, and onion into bite sized pieces

Step 4 - Place rib roast on a wire rack inside of a deep roasting pan

Step 5 - Toss vegetables with olive oil and add to the roasting pan

Step 6 - Cover and bake until rib roast internal temperature reaches 125 degrees Fahrenheit (1 to 1.5 hours)

Step 7 - Remove rib roast and cover with aluminum foil and a dishcloth for 10 minutes

Step 8 - Stir remaining vegetables and onions together and season to taste with salt

Step 9 - Cut rib roast in half and serve whole as a steak, or cut the meat off the bone for smaller portions


Internal temperature - The roast will climb in temperature by 5 to 10 degrees after you remove it from the oven and let it rest as the heat from the outside of the roast continues to diffuse into the center of the meat. Medium rare is right around 135 degrees and you can adjust this up or down 10 degrees to suit how you like your meat cooked.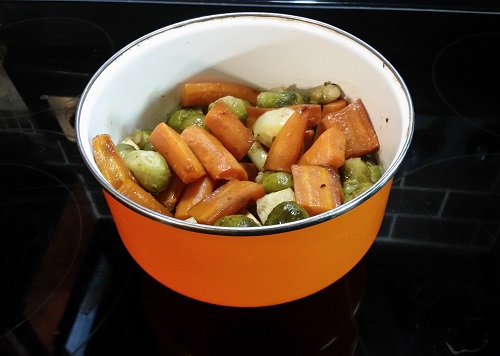 The side dish is a real star in this recipe. When you toss the carrots, parsnips, Brussels sprouts and onions in all of the fats and juices that have come off of the prime rib, the result is outstanding. Many AIP recipes are lighter and less filling than what some people are used to. The flavor from the prime rib mixed with the veggies is a fantastic combination that helps to bulk up the meal with healthy things that scarcely taste like healthy things!

I like to serve this prime rib recipe with a big portion of vinegar tossed swiss chard to increase the amount of green colors and sulfury vegetables. This recipe requires a little more effort than many of the recipes on this website but the payoff is well worth it when you feel up to the task.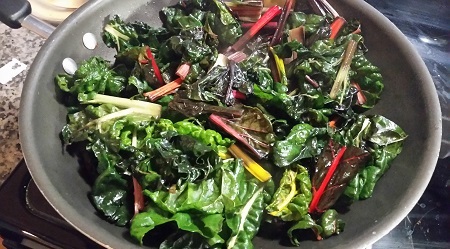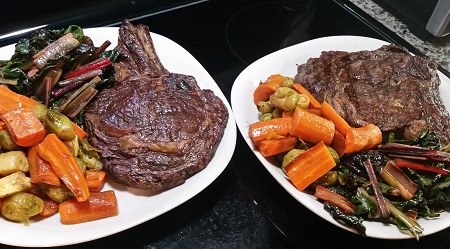 The CookForMeBaby.com blog

Life with MCTD

Autoimmune protocol recipes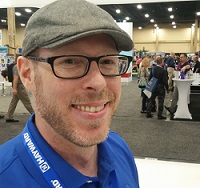 About the author - Steve Goodale is a blogger and technical specialist from Ontario Canada, winner of the 2018 Industry Leadership Award, who reaches over three million readers per year with his popular pool and spa blog. Steve started the www.CookForMeBaby.com blog about healthy eating after being diagnosed with a rare and incurable autoimmune disease. You can read more on his story about life with MCTD here. For more healthy cooking inspiration check out his other delicious recipes.