AIP Maple Apple Pulled Pork

This maple, apple and red onion pulled pork is essentially a sweet and sour sauce over a slow cooked, shredded, pork roast. Since AIP is extremely restricted for sugar intake you may find that you want to dial back on the amount of maple syrup that you use. If you do that then you should also dial back an equal ratio of the vinegar since the flavor of this sauce is made by the balance of the sweetness of the maple syrup versus the sour note from the apple cider vinegar.


Much like when you go out for a fancy dinner and their foods always taste better than the stuff you make at home - this is because they are using more fat, more sugar, and more salt than any self respecting home chef would use. This recipe for apple and maple pulled pork tastes great, but skirts the line of what is safe, and healthy, for you to eat on an AIP diet. Use a little less maple if you need to, but also remember that you are making an entire pulled pork roast, so the sugar content will be divided among all of the serving portions the roast makes.


Choosing your cut of pork - Now typically with any kind of slow cooked meat there are two things you want that meat to have - fat and bone. Fat and especially bone are where the flavor hides in a typical cut of meat. When I need to find flavor I always look to a cut of meat with bones in it to get the most of the natural flavors out of the food. In the case of this pulled pork I opted to use a boneless cut for simplicity. It still had a reasonable fat cap so it was not lacking in that regard, but to the purists out there, yes this meat would taste better if I (you) use a more traditional bone-in cut of pork, like a shoulder, for the pork. Where I am located I can get boneless pork loin for so cheap it is impossible for me to pass up. Sometimes you need to go with the flow. In this case the end result was more moist than I anticipated, and the sauce is essentially apples and onions melted down into paste that is seasoned with maple syrup and salt. It does not matter what cut of pork you use - the sauce is what makes this pulled pork so great.


* You do not want to add any liquid (other than the vinegar and half of the maple syrup) to the slow cooker when you start cooking this recipe because you will get a lot of moisture out of the meat, apples and onions as they cook. Even without adding any extra liquid to start you will need to strain the liquid off when the pork has finished cooking to avoid the sauce being too watery.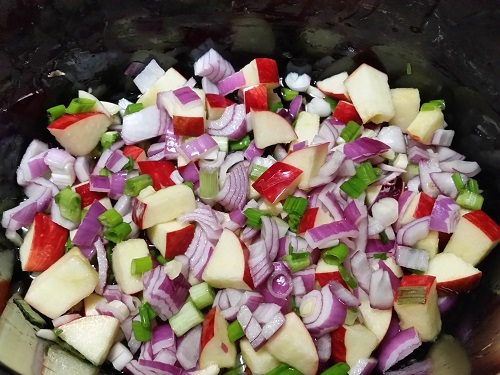 Prep time
15 minutes

Cooking time
3 hours

Recipe yield
6 to 8 servings

Ingredients needed
1 boneless pork roast
1 red onion
1 red apple
2 stalks green onion
3 tablespoons apple cider vinegar
6 tablespoons pure maple syrup
2 teaspoons salt
1 clove of garlic (optional)