BBQ Ribs & Warm Sweet Potato Salad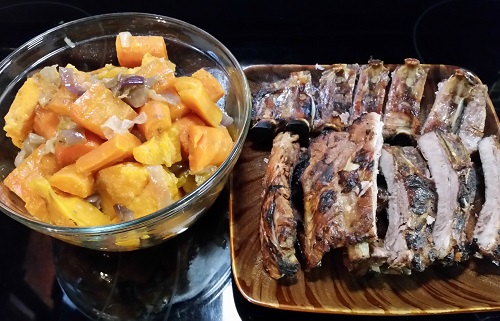 One of the types of cooking that I enjoy most is the "family style" meals where you make big servings of food all at once that can feed a large group of people. More times than not I just do not have the time to cook a healthy and delicious multiple course meal but without the option for fast food you must find a way to make it work. Family style cooking is my solution to this problem. Easy meals that take very little time to prepare and get in the oven (or slow cooker sometimes) and they taste absolutely amazing!


The ribs in this simple meal I describe as bacon ribs. The slow cook time in the oven brings out the amazing flavors and texture that you expect from a high quality pork rib (or beef rib if you prefer). The heavy salting and flash on a high heat BBQ caramelizes the fats on these ribs and gives you a salty, crunchy, bacon-like flavor that does not feel like a dietary restriction! The hearty sweet potato and carrot medley that is baked and basted in the fats from the slow cooked ribs is filling and flavorful, but most importantly, 100% AIP friendly. This is one of my favorite recipes for an easy way to feed a large group of people or when I need to feed a person with a huge appetite and no appreciation for what AIP means. This meal is a success every time.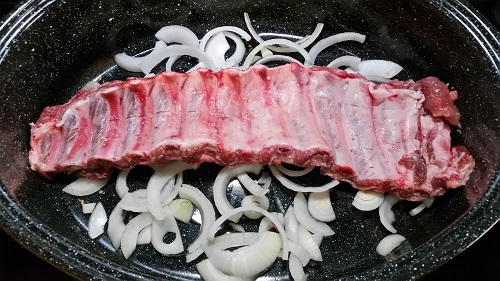 Prep time
10 minutes

Cooking time
2 hours

Recipe yield
2 to 4 servings

Ingredients needed
1 rack baby back pork ribs
3 large sweet potatoes
3 large carrots
2 or 3 large onions
2 cloves of garlic
2 teaspoons pink salt