AIP Breakfast Soup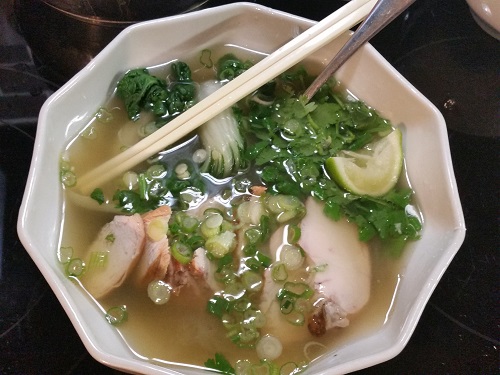 Breakfast is by far the hardest meal of the day when you are eating strict autoimmune protocol foods. There are not a lot of great replacement foods for the things you know and love as breakfast foods. I found one of the best ways to deal with this problem was to change what I thought of as breakfast foods. When I traveled to Asia I had been warned as a Westerner that it would be tough to get used to eating noodles for breakfast. What I found instead is that I loved noodles for breakfast and pho in particular is just about the best breakfast food that you can find anywhere in the world.


I found that the warm soup first thing in the morning was welcoming, and comforting, and the rich broth helped me to feel full without feeling too full. Within twenty minutes after eating this meal I no longer feel "full" but remain well satiated for hours. When I went looking for more breakfast options that are AIP compliant a big bowl of broth, veggies, herbs and noodles was a perfect fit.


* In this recipe I used leftover chicken, which I seem to end up with a lot of. If you don't have any then you can roast, BBQ, boil or pan fry a chicken breast with some salt. I also ALWAYS have a freezer full of bone broth that I batch make in advance. It is cheaper than store bought bone broth, by a mile, and tastes better than any store bought bone broth I have come across. If you need one you can use my turkey bone broth recipe.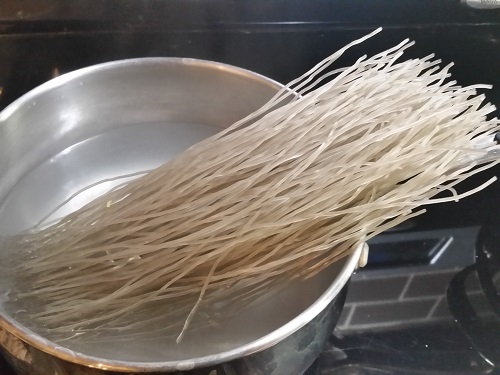 Prep time
10 minutes

Cooking time
20 minutes

Recipe yield
2 to 4 servings

Ingredients needed
4 to 6 cups of bone broth
1 leftover chicken breast (boneless / skinless)
3 heads of baby bok choi
2 green onions
1 handful of sweet potato noodles
1 lime wedge (per bowl)
1 bunch of fresh cilantro